'Prof. Reuven Yosef Ornithology Collection' of the Ela Foundation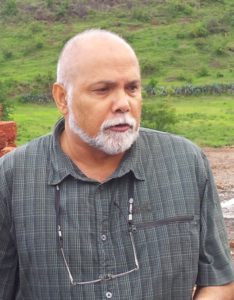 Ela Foundation received a large donation of books from Professor Reuven Yosef, Israel. This is a gift of knowledge from Israel to India and we hope that students, researchers, foresters and academicians will take advantage of this invaluable treasure.
The Prof. Reuven Yosef Collection houses rare books including several signed copies of books given to Prof. Reuven by respective authors. These books are authored by some of the foremost researchers working in the field of ornithology, conservation biology, ecology, bio-geography, etc. Several books are now out of print and such valuable knowledge sources can now be accessed in our library. The subjects include ornithology (field guides, history, migration, flight, feeding habits, etc.), ecology, biostatistics, conservation biology, field study techniques, modern research technology, etc. One may also find inventories, photographic bird guides, drawings, reports, technical publications, etc.
As an expression of our gratitude to Prof. Reuven, Ela Foundation has named the library as 'Prof. Reuven Yosef Ornithology Collection'.
A catalogue of the library is also available on our website. All the books have a special sticker acknowledging this generous donation.
In addition to this collection, there are many other books in the library encompassing subjects like ethno-biology, study of natural sounds or bio-acoustics, Sanskrit literature related to conservation of nature, etc.
The Original Collection:
Majority of the books are from the personal collection of Dr. Satish Pande and Dr. Suruchi Pande.
Our book donors include:
Several other generous scholars, foresters and academicians have also donated books to the library. Yashwantrao Lele, Prashant Deshpande, Shivkumar alias Banda Pednekar, Dr. Anil Mahabal, Digambar Gadgil, (Late) Kashinath Pandit, Dr. Radheshyam Sharma, Dr. Hemant Ghate, Sunil Banubakode, Dr. Deshbhushan Bastawade, Nitin Kakodkar (IFS), Anurag Choudhary (IFS), Swapnil Kumbhojkar, Raghvendra Manavi, Ujwala Pawar, etc.
Audio & Video CD/DVD Collection:
We also house a collection of audio and video CD's and DVD's dedicated to bio-acoustics, conservation and natural sciences.
We Accept Select Books:
Ela Foundation is looking forward to acquiring a large, comprehensive and unique collection of books focused on Ornithology, Ecology and Conservation. Hence, donations of books from generous donors are welcome.
Location: The 'Prof. Reuven Yosef.Natural History Library' is centrally located in the OENSL, In the Abasaheb Garware College Campus, Boys' Hostel Building, Karve Road, near Deccan Gymkhana, Pune.
Contact: You can avail of this reference treasure by contacting us at: suruchipande@gmail.com
Reuven Yosef, Ph.D., was born and grew up in Pune, India. His entire schooling was at the Shivaji Military High School (SSPMS) and he immigrated to Israel in 1974. He started his academic career relatively late in life because of other activities which included service in the Israeli army. He received two undergraduate degrees (BSc, BEd) from the University of Haifa, a M.Sc. from the Ben Gurion University of the Negev in Beer Sheva (working at the Desert Research Institute at Sede Boqer; advisor Prof. Berry Pinshow), a Ph.D. from The Ohio State University (advisor: Prof. Tom C. Grubb, Jr.) and completed his post-doctoral study at Archbold Biological Station in Florida & Cornell University (advisor: Prof. Tom Eisner). During this period he also worked as an avian consultant for NASA at the Space Shuttle Facility at Cape Canaveral, Florida.
Most of the research work was connected with shrike ecology and conservation. Prof. Yosef has authored the species account for the Loggerhead Shrike in the 'Birds of North America' series (1996, No. 231), and the True Shrike (Laniidae) family account for the 'Handbook of the Birds of the World '(Vol. 13). He has published more than 200 peer-reviewed manuscripts and co-authored five books. Prof. Yosef has served on several committees in the American Ornithologists' Union, Cooper Ornithological Society, and was International Director of the Raptor Research Foundation 1998–2000. He co-established with Professor Tom Cade the 'International Shrike Working Group' in 1993 and has since organized eight International symposia—four published as proceedings.
Prof. Yosef moved back to Israel from the United States with his family in 1993 to become the director of the 'International Birding and Research Centre' in Eilat. His major project was to reclaim the local garbage tip and create on it a "Bird Sanctuary" for the use of hundreds of millions of migratory birds. For this effort, he has won several international awards including Swarovski Environment Award (1998), Rolex Awards (2000), Condé Nast Award for ecotourism (2000), 2008 "Israel's Visionary" from the President of Israel and the Council for beautiful Israel, and in 2009 the "Excellence Award" of the City of Eilat.
In Eilat he has established a long-term bird ringing and research station (data since 1984) and published extensively on the subject of avian migration strategies, conservation measures and the effect of global incidents on migratory populations (e.g., Chernobyl, climate change, etc.). Prof. Yosef is involved in many research and conservation projects in many countries across the globe—Forest Owlet, Bengal Tiger in India; Fiscal Shrike in South Africa; Barn Swallow roosts in Nigeria; Griffon Vultures in Spain; Red-footed Falcons in Hungary; Eleonora's Falcon in Greece; Long-legged Buzzard and Cyprus Wheatear on Cyprus; Common Sparrowhawk in the Czech republic; hybridization of eagles, orientation and navigation of Passerines in Poland; Steppe Eagle, Upland Buzzard and Eagle Owl in Mongolia are some of the projects.
Prof. Yosef is currently an adjunct Professor at Ben Gurion University and lectures in Ornithology and Ecotourism. He is also a Professor at the Sevadal Mahila Mahavidyalaya College, Nagpur and member and academic advisor to Ela Foundation, Pune, India..